What Can Akoe Do?
Payroll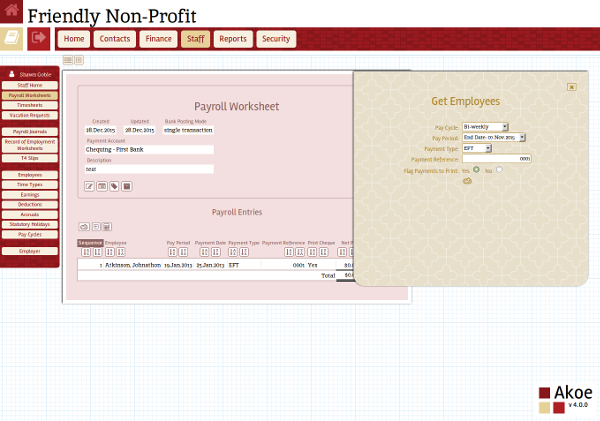 The Payroll module provides full capability to manage employee wages, including T4's with electronic submission to CRA. You define earnings, deductions, and accruals as appropriate, and rates for appropriate earnings, deductions, and accruals per employee. Rate changes can be future dated and will automatically take effect in the appropriate pay period.
Payroll Worksheets are used to process each payroll run, and will automatically load all active employees for the selected pay cycle and pay period. Any cyclical earnings or deductions defined for those employees will also load as appropriate, as well as the related earnings for any hours on an approved timesheet, if the Timesheet module is also licensed. You can then review the details of the worksheet, edit as necessary, and then have Akoe calculate the appropriate statutory deductions and net pay using the current rates as defined by CRA.
Akoe also provides the ability to print cheques or generate a file for electronic payment as defined per employee. When paid electronically, employees are automatically notified by Akoe when a pay run has been posted. Whether paid electronically or by cheque, employees are always able to review their pay stubs and related details in Akoe. Likewise, they are notified by Akoe when a T4 has been issued, and are able to view the details in Akoe or download a pdf copy to save or print.